THE THIRD TESTAMENT
A BREATHLESS HUNT AGAINST THE BACKDROP OF CURRENT EVENTS AND HISTORICAL FACTS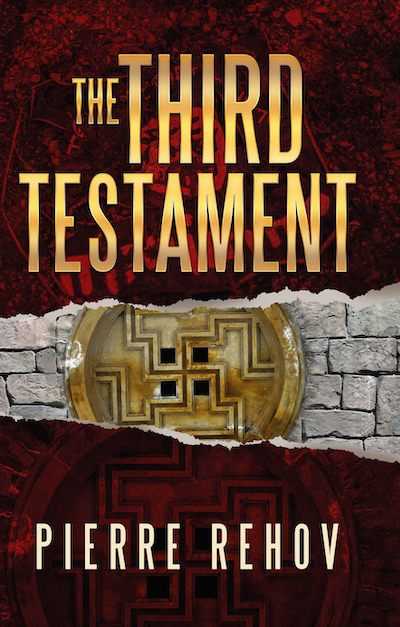 1992. In the underground archives of the KGB, agent Alexei Soloviev discovers by chance a secret testament of Adolf Hitler seized in his bunker by the Red Army
Thirty years later, unusual disturbances in Islamist circles connected with neo-Nazi organizations lead the young Intelligence Services analyst, Melanie Carson, to infiltrate a group of white supremacists in Pennsylvania.
A discovery as terrifying as it is unexpected will lead her into a dangerous adventure with her new companion, Jeff Cartright.
Would the Nazi expeditions to Tibet in the 1930's have enabled Himmler to find the original text of the Karma of Kalachakra, an esoteric work attributed to the Buddha himself, which allows the followers of Dalai Lama's to find the reincarnation of their leader? Could neo-Nazis, whose rallying sign is the number "88" – an 8 for each "H" in "Heil Hitler" – have succeeded in taking control of several terrorist organizations, with the common objective of upsetting the world order and perhaps resurrecting the Third Reich?
From Washington to Pennsylvania, from Boston to Moscow, from Eastern Germany to Banda Aceh and the suffocating jungles of Sumatra, The Third Testament takes the reader on a breathtaking adventure where reality often surpasses fiction.
BEYOND RED LINES
What would you do if you were an innocent man entangled in a dark conspiracy plot that took everything away from you…except your soul?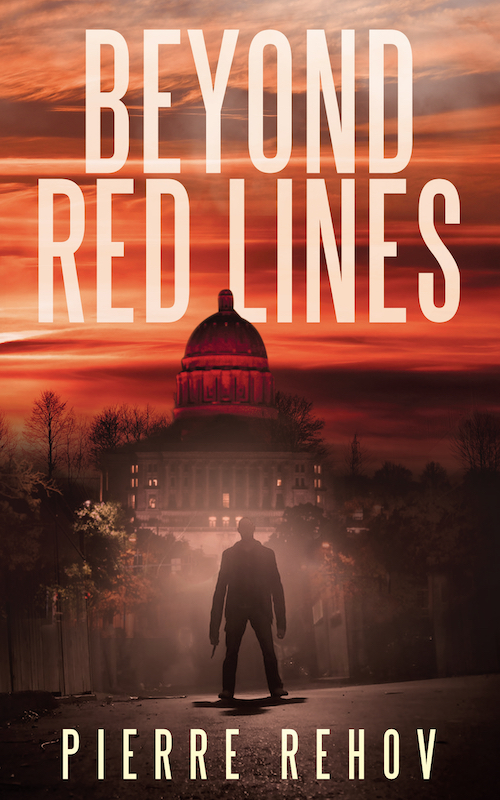 It was an unexpected offer, the job of a lifetime. Who wouldn't want to lead a team of computer experts on a top-secret project in the heart of Mexico?
I thought they'd forgotten about my gift my CO noticed when I was a young conscript, but destiny wouldn't let them use me then. Instead of sending me to the front in Iraq, they had to send me home… but someone had not forgotten about me.
Ten years later… how could I know that my talent would change my destiny and strip me from my humanity…
They call themselves the "White Cells of Democraties" and are hell-bent on exacting revenge on terrorists… that's why they have these secret camps where they recruit and train mercenaries to fight for their cause – the base where I am stuck too…
That job I was offered was a lure that would bring me here to this hell-on-earth place with my wife and daughter… I've lost everything and they think they are training me for their cause, but I have my revenge to exact…
Who are the people behind the White Cells Organization, and why did they target Theo?
Follow Theo as he tries to survive the inhumane conditions of the training camp as he searches for the puzzle pieces that would help him give the solution to the greater-than-the-world conspiracy plot that landed him in a hell-on-earth camp in the Sierra Madre.
With a delicate blend of political fiction, military action, and his factual worldviews combined with a journalistic approach, author Pierre Rehov will take you on a unique journey filled with thrill and suspense.
In Beyond the Red Lines, nothing is what it seems…
If you are a political and military novel lover – then this book is a must-have for your collection. Sit back and revel in the magnificent story that will keep you glued with every turn of the page. What are you waiting for?
"Everyone is asking the same questions: How should we respond to terrorism? Should we be afraid of it? What does it mean for our future? Pierre Rehov, by no means purports to answer all of these questions." – Amanda Schuster – European Weekly
"Pierre Rehov has written a doozy of a thriller. This is a globe-trotting novel in which suspense is everywhere and the surprises are non-stop. The intrigues keep the reader turning the pages for the next fateful encounter. The pay-offs are perfectly timed and so very satisfying." – Novelist Jack Engelhard (author of Indecent Proposal)